Archive Cinema City 2012.
First Aid
Ezra Rishona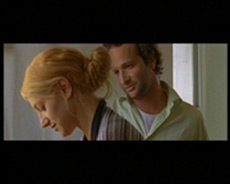 Genre:
Fiction
Country:
Serbia
Year:
2010
Duration:
15:55 min.
Director:
Yarden Karmin
Scenario:
Yarden Karmin
Cast:
Hila Vidor, Erez Kahana
Programme selection:
Up to 10,000 Bucks
Budget: 1.000
Synopsis:
A day before his wedding, Shai visits Tamar, his ex-girlfriend, for a tempestuous encounter prior to becoming established. Tamar leaves him a hickey, entangling the situation.
Director:
Born in 1981 in Kibbutz Ein Shemer, Israel. Began his studies at The Sam Spiegel Film & TV School, Jerusalem, in 2004. During his studies in The Sam Spiegel Film & TV School he worked as a projectionist in a small cinema in Jerusalem which he is currently managing. In 2008 he directed the short film "Fossil No. 4". His graduation film "First Aid" was nominated for the short film Palme d'Or at the 2010 Cannes Film Festival, participated in several festivals worldwide and received four International prizes.
Archive 2012