11/05/2010 04:09
Iraqi director Mohammad Al-Daradji, guest at Cinema City Festival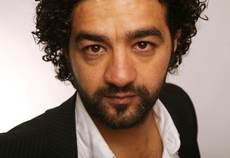 "
Democracy / Export-Import
" selection will at this year's Cinema City Festival in Novi Sad present a superb collection of documentary features, creative interpretations of reality and stirring testimonies on human rights and freedom violations, shattered hopes and dreams. Iraqi director and multiple winner, Mohamad Al-Daradji will be guest at this year's Festival, and within this selection, in his honor, a special programme is established called "
In Spotlight: Mohamad Al-Daradji
" which will screen four of his accomplishments.
Bravery, honor, sincerity and authenticity are traits which adorn all of Mohamad Al-Daradji's creative work and Cinema City wants to present Serbian audience and film professionals with his film legacy and with values of his films. A director who always believed that art can beat tragedy left his London studies in 2003 and came back to his homeland to make live war footage and fulfill his dream of making a film about his country in which only four cinemas worked at the time.

Film crew shot on the streets of war torn Baghdad, with part of the crew even being abducted at one point and with one of the cameraman suffering bullet wound to the leg. He called the film "Dreams" (Ahlaam) and with it he went to receive a Golden Globe nomination as well as an Academy Award nomination for best foreign film in 2006. From material made during principal photography of this film he directed his second film, a documentary "War, Love, God & Madness". This programme will also present Daradji's early documentary "My Name Is Mohammed" but also his newest achievement "Son of Babylon", a nominee for Grand Jury Prize at this year's Sundance Film Festival and a winner of Amnesty International Film Prize and Peace Film Award at Berlin International Film Festival. Also, this will be a perfect opportunity to present British production company "Human Film" which produced many humanitarian and political works on the subject of fight for freedom of the human right and equality.
"Democracy / Export-Import" selection will also screen four incredible documentaries that speak of stirring and uncompromising fight for human rights. A sobering film by Turkish director Bingöl Elmas "My Letter To Pippa" (Pippa'ya Mektup) is dedicated to Pippa Bacca, Italian peace activist and great human rights fighter but also a fighter for women's rights as well, whose journey, a walkabout and hitchhiking in white wedding dress, from Milan, across Turkey to Israel, with intent of raising conscience on need for a global peace, ended tragically in western Turkey where she was brutally raped and murdered.

"The Five Cardinal Points" by Austrian director, writer and producer Fridolin Schönwiese was shot in Mexico as a testimony of people's longing to realize "the American dream". "To Shoot an Elephant" by Alberto Arce and Mohammad Rujailah, a Spanish-Palestinian directorial duo, is a documentary on Israeli Operation Cast Lead. During this operation, people were shot like mad elephants for 21 days, and two directors managed to stay embedded inside Gaza strip ambulances along with Palestinian civilians.
"China's Public Enemy No. 1: Rebiya Kadeer's Battle for the Uyghurs" by German author Sylvia Nagel is an exciting story about Rebiya Kadeer's destiny and her fight for minorities in China.
"Twenty first century offers pictures of brutality, merciless human nature, greed, injustice, distorted system of values, pollution but also pictures of man's fight for justice and truth. Films which deal on those subjects simply don't allow indifference. At the same time, they remind of human kindness and carry messages of hope. They oppose any genre classification nut just due to different aesthetic approaches, methodology frame works and ideological directions of their makers, but primarily due to the fact that images in documentaries carry their own truths, independent of conditions and intents which exist during principal photography", says Dubravka Lakic, programme selector.



---